About us
Alpenwichtel, our small hobby cattery for the breeding of beautiful Norwegian Forest Cats, takes it's name from the region in the outskirts of Hamm of lovely Nordrhein Westfalen in North Western Germany. You may have assumed we were rather in Bavaria, but the name Alpenwichtel came together quite simply: Our house is at the "Pelkumer Alpen" and the forest cats are also historically called 'Troll'-cats or in German, "Wichtel" combining to create "ALPENWICHTEL."
Our cattery has been a registered member of FIFe since 1997. We are a member of the 1.DEKZVe.V., the oldest German cat breed federation, a member of the Norsk Skogkattrings Oslo, as well as the Union of Norwegian Forest Cat in the 1.DEKZVe.V., and Hello Norwegian, an independant association of Norwegian Forest Cat fanciers.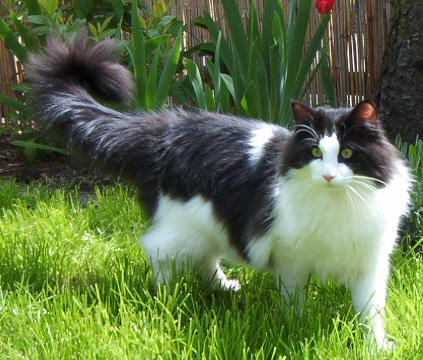 Janosch v.Alpenwichtel
How It All Began:
Actually, I never wanted to have a cat in the house..... Cats are wrong, they scratch the furniture and shred the wallpaper, not to mention leaving their fur and other treasures around, preferably under the bed. These reasons were enough to keep my interest in horses and dogs, but not cats....Until one day when my husband and children came home with a small kitten. Who can resist the trusting eyes of a baby kitty in distress?! We already had Felix, a medium sized half-breed dog, and Mel, a full blooded Arab, so why not this small kitten as well? This small creature had been abandoned on the farm of our friends and was obviously completely used to being handled by humans. We called her Felina, and she was very fast a happy member of our family. She was allowed to roam free, as it was not possible to keep her indoors, and she took a liking to the dolls bed, and the children's room to sleep. Actually, having a cat was completely and beautifully unproblematic and very pleasant. Felina showed me that my prejudice against cats was complete nonsense. She behaved purrrfectly and quickly conquered us to make a warm place in all our hearts! Everything was lovely for a year, until one tragic day she disappeared. We searched and only later the children found her dead on the roadside, where she had been hit by a car.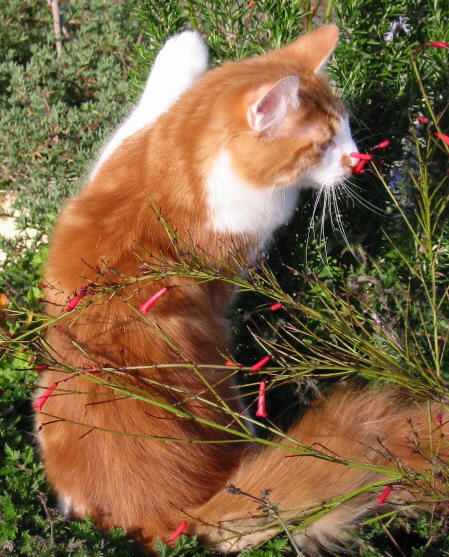 Hannibal v.Alpenwichtel
It had become clear to us that without Felina something important in life was missing, so we looked for another cat, one who would be happy to stay indoors all the time and also to be comfortable in a family with children and dogs. The cat should be loyal, intelligent, self-confident, loving, and unafraid, and have a friendly, open nature. In addition to these characteristics, the cat should be particularly beautiful, and have a medium long, wash and wear coat. Thus, a noble cat! But please, not a beautiful but overdeveloped fashionable race, but rather a durable, more sturdy child of nature. The idea of a small hobby cattery took ever more concrete forms and ended finally with the NORWEGIAN FOREST CATS!!!!!! .....We have found our dream cats.....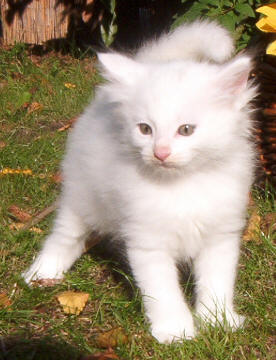 Jule v.Alpenwichtel